Ransomware…..right in your backyard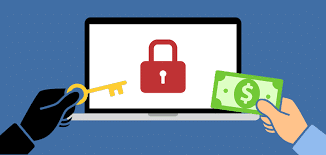 Ransomware attacks continue to make headlines therefore, being proactive is critical. Hospitals, universities, SMBs and even government offices have found themselves a victims of these attacks. You must take every precaution against Ransomware attacks, especially as they become more and more frequent. In this climate of threats, it is necessary to add as many layers of protection as possible. That's where File Folder Sharing (FFS) comes into play.
FFS is the practice of sharing or offering access to digital information or resources, including documents, multimedia (audio/video), graphics, computer programs, images and e-books. It is the private or public distribution of data or resources in a network with different levels of sharing privileges.
FFS is convenient, and allow your team members to work on projects and collaborate no matter where they are; it also gives you the added layer of protection necessary in today's world. Securing backups in the cloud can save files that would have been compromised. Your device may be infected, but with files backed up in the cloud, you can restore them quickly and thwart the attack.
At first glance, FFS products may appear to be identical. But the features they offer vary, and certain systems offer more protection than others.
How do you know which FFS option is right for your business? Should you make choices based on cost or are there certain "must have" features? Is a popular, well-known and widely used product best, or does it simply have the best name recognition? Is it worth spending more for a product that offers end-to-end encryption to avoid higher costs in the event of an attack?
To answer these questions accurately and assess which FFS product is right for you takes time, research, and expertise. Do not try to make this important decision on your own!  You need a specialist to guide your choice.
At Net Works —we are experts who stay knowledgeable on both current cybersecurity best practices and the tools available in the market today.
The right FFS product can make a critical difference for you if a Ransomware attack strikes. Differentiate yourself from your competitors who are not investing in security.  Avoid the pitfalls of Ransomware attacks by talking to Net Works to determine the best strategies and products to meet your security needs. Don't be caught off guard if an attacker strikes.