Not Sure How To Train Remote Employees?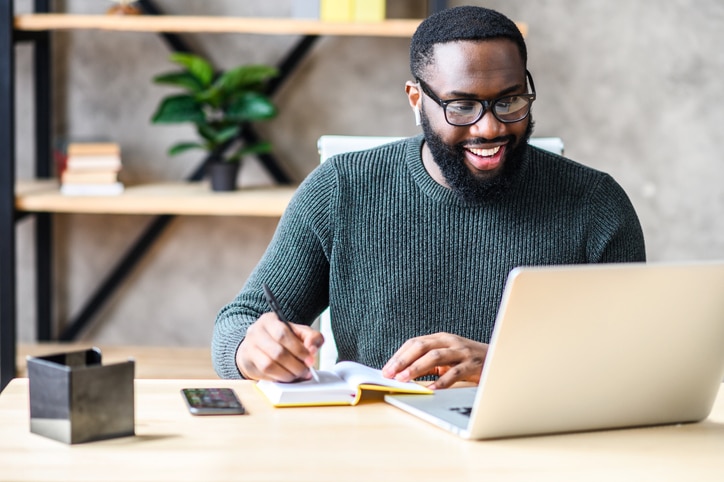 Not Sure How To Train Remote Employees?
Don't let the prospect of remote training keep you from improving your staff or bringing on new hires — Net Works can help you develop an effective and engaging e-learning program to ensure your staff is well-trained.
No one expected to be working from home for this long, but you can't keep your business on standby while we wait to "get back to normal".
For a few months, it was easy to delay a new hire or a vital training program and assume there will be an opportunity to handle it when you're back in the office. Fast forward to now, and we're almost a year into the pandemic.
Remote work has gone from a temporary fix to the new normal, and if you've been delaying a much-needed expansion or improvement of your staff, you can't delay any longer.
Don't Underinvest In Your Remote Staff
The fact is that remote work doesn't come naturally to everyone. This new era of remote working has led to the types of issues that managers would have addressed directly in the workplace. It's not so easy now that you're cut off from your team members.
A recent study has found that newly remote workers across the country are encountering a series of challenges in their daily work life:
19% experience loneliness
17% have difficulty communicating and collaborating
8% have trouble staying motivated
By developing a healthy remote work culture from day one with new employees, you'll help them to be more engaged and more productive in their day-to-day work.
Take Advantage Of This Opportunity To Train Your Staff
Whether you need to onboard new staff members, or further enrich your current staff, you shouldn't put it off until you're back in the office. Work hours spent at home are just as valuable as those spent in the office if you know how to use them.
Doing so requires four key components:
Delivery Method
You need to determine how the training is going to be delivered, whether it's active in a meeting or seminar; inactive, through materials given the employee to study on their own; or a blend of both.
The Right Tools
Depending on how you plan to deliver the training, you may need to invest in certain software, whether it's a video conferencing solution or an e-learning tool.
The Right Materials
You will also need to develop your training materials, specific to your organization's culture, the duties of the employee in question, etc.
A Method For Tracking Results
You need to be able to keep track of how quickly and effectively an employee is completing their training.
6 Tips For Optimizing Your Remote Training
Don't Waste Their Time: Some Zoom calls, just like some pre-pandemic meetings, are often more effective as emails. The more effort you make to value and respect a new employee's time, the more they'll do the same for you. They'll feel more empowered in their new role, rather than drained by hours and hours of video calling it took to walk through a slideshow or document they could have reviewed at their own pace.
Harness Available Technology: There are countless free tools and apps available to you — there's no excuse for delivering your training as a long, text-heavy document, or a visual-aid free video call. Incorporate visual aids like videos and screenshots to help demonstrate processes. Encourage engagement with live whiteboarding during meetings. Use messenger apps to promote a casual communication counterpart to more rigid emails. Don't forget — free doesn't always mean secure. Always double-check what permissions you're giving a new app when you download it.
Focus On End-Results, Not Time Spent: The worst mistake a manager can make in the age of remote work is to become overly focused on how much time employees are logging at home. The fact is that more screen time does not necessarily mean higher productivity. You should make sure new employees understand their performance is judged by what they produce and achieve, not by how much time they spend looking at the computer each day.
Track and Document Progress: Whatever form your remote training takes, make sure it's carefully tracked for each employee. As you can't have the conventional training period in the office with a new staff member, it'll be all the more important to develop a documentation system that will track where they are in their training program.
Make Sure They're Working In The Right Space: Make sure that wherever your staff is going to work is comfortable, distraction-free, and as in-line with a normal workplace as possible. They may need to invest in an office chair, or even, depending on their work, a second monitor.
Promote Balance In Their Workday: Make sure that your new staff member is striking the right balance at home. Just as they shouldn't be slacking off because they're not being supervised, they also shouldn't overwork themselves. Make sure everyone is taking breaks to decompress, stretch, stay hydrated, and relax.
Switching from a full office to their quiet house can be difficult for workers — don't forget to schedule time for business and casual communication. Your employees should still communicate on a regular basis with one another and with you.
Net Works Will Help You Develop Custom Training Programs
If you're not sure where to begin in optimizing your training, Net Works is available to help. We follow a carefully developed process to help organizations like yours develop custom training programs specific to their needs in remote-work environments.
We start by assessing your processes to identify opportunities to improve your team's efficiency by training them to make better use of the solutions they already have.
We then work with you to develop a training program in line with your business culture, that shows users how to become more productive with the apps and tools they use every day.
Don't let your staff's skills degrade over the course of the pandemic — with Net Works' help, you can improve your staff while they work from home.