Why Should You Consider Fully Managed IT Services in Nashville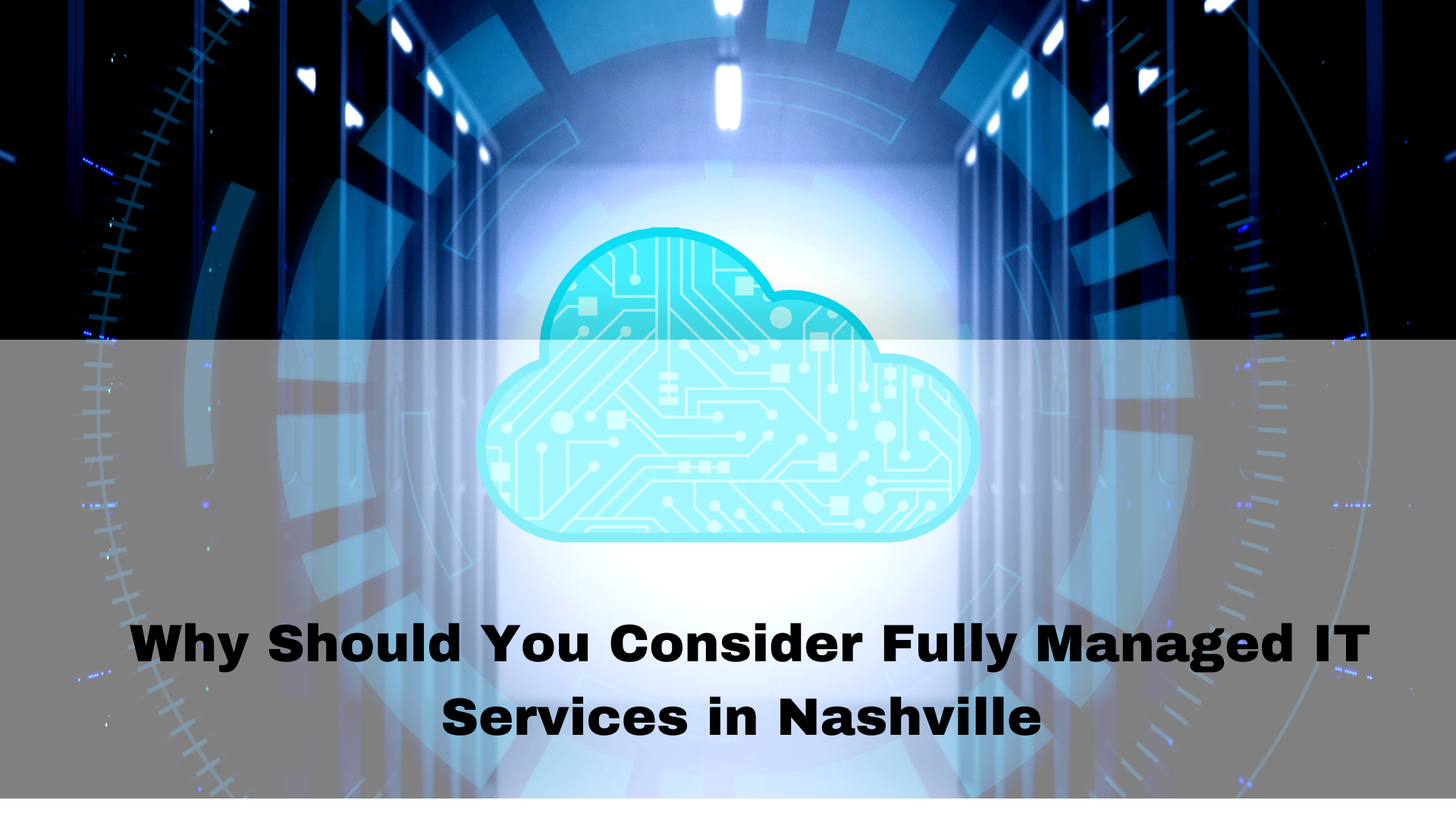 In today's constantly shifting technological landscape, many businesses outsource their IT services to a managed service provider, that distributes and assumes responsibilities for providing managed IT services on behalf of the company or organization.
Likewise, Nashville has been a hub of innovation and culture for decades. Nashville businesses are currently one of the fastest-growing markets in the nation; that's why residents are accustomed to the hustle and bustle for which the thriving metropolis is known.
If you are a business owner and want to be in service demand, you should amplify your technological capabilities. To do so, you must contact a trusted-managed IT services provider.
Fully Managed IT Services
The term 'Fully Managed IT-Services' consists of several IT services that provide proactive management of an IT services asset or object by a third party, typically known as an MSP, on behalf of a customer.
It offers a premium level of support for a customer and allows them to save a lot of resources.
Managed IT services include remote and onsite support/help desk, data backup and disaster recovery, network security, network operations center solutions, cybersecurity management, and more.
Reasons to Consider MSP in Nashville
If your organization already has in-house IT personnel on the payroll, you may wonder why Nashville businesses need an MSP. The answer is that hiring and maintaining an in-house IT team is costly.
In addition, expanding your staff requires a considerable commitment of time and resources. When you elongate the hiring processes, your business suffers, and extra workload generates for existing team members.
An outsourced MSP will take care of these problems simultaneously and employ teams of talented IT professionals to immediately access the skills you need when you need them. Some other benefits of choosing MSP in Nashville are:
Enhanced Security
Different technological tools and devices have become helpful in this evolving digital era, including laptops, smartphones, servers, operating systems, tablets, etc. In these devices, the company's sensitive data is stored. That's why it is beneficial to use IT service providers, because it's their responsibility to make organizations aware of security issues and risks.
Increased Productivity
Are you looking for a way to gain a competitive advantage within your industry? Want to use the latest technologies and software to optimize your team's performance? If that is the case, then a partnership with Quality MSP is what you are looking for.
A managed service provider will optimize network performance, install regular upgrades, and connect you to innovative IT solutions that will regain your team in a prime position of success. By increasing productivity, not only will your business benefit, but it will also increase customer satisfaction.
ROI and Cost Effectiveness
Managed IT services to help control outgoing expenses and improve return on investment (ROI). One of the reasons organizations use managed IT services is that these services are associated with considerable cost savings. Using outdated software and equipment can have detrimental effects on ROI; Use managed IT service providers to avoid these instances.
Furthermore, when an organization needs to grow or scale back, managed IT services offer scalability and flexibility that is impossible with an internal IT department. According to managed IT service providers, an organization's IT budget should include several items, such as IT labor, maintenance costs, software and network infrastructure, and hardware costs.
Improved Customer Service and Relations
Why should organizations use Managed IT Services? Because these services strengthen customer service and improve organizational relationships. In any organization or business, customers are in the limelight and are considered as they bring life to the company. Thus, enhancing their experience to the highest level possible is essential.
Net Works' Managed IT Services
A Managed Service Provider is a third-party firm that will keep an eye on your digital resources. While the exact services offered by a Net Works MSP will vary, specific services include:
Network Management
Is there a requirement for a new laptop, workstation, printer, server, wireless unit, or switch? Not sure!! Do not worry about that now. Networks offers you the hardware and software best fitting your business's needs at a great price.
Data Backup Services
If your primary workstation crashes, will your business be able to continue running? Businesses generate generous amounts of critical and sensitive data daily; that data can reside on-premises, off-site storage, and in cloud-based applications. With Nashville, Net Works empowers businesses of every size to protect their mission-critical information.
Remote Network Monitoring
Waking at midnight and unaware of what is happening on your network! With Net Works, you can relax. Their remote monitoring services automatically detect IP-connected devices on your network and identify and diagnose problems before you know they exist.
Mobile Device Management
Mobile businesses are increasing! With increasing technologies, you can do your work from any place. Setting up your mobile devices to connect to your network can be tricky, and ensuring that your data is protected in the process adds to the complexity. Net Works mobile device management platform provides the security and flexibility your business needs.
Patch Management
Software updates are a business necessity and a requirement for most IT security compliances. Often, these updates fix critical issues or security vulnerabilities, but sometimes they alter functionality or even cause secondary problems. Determining your software versions and knowing when to upgrade them can be difficult. Net Works patch management services save time, reduce costs, and standardize your software patching needs.
Conclusion
Nashville IT managed services keep staff productive and the company thriving by combining industry-leading hardware and software to develop a network solution. If you own a large or mid-sized company and want to take your business network security to the next level, contact Net-Works at 615-627-4216  to discuss a plan for data recovery in Nashville, TN, and the managed IT support services.